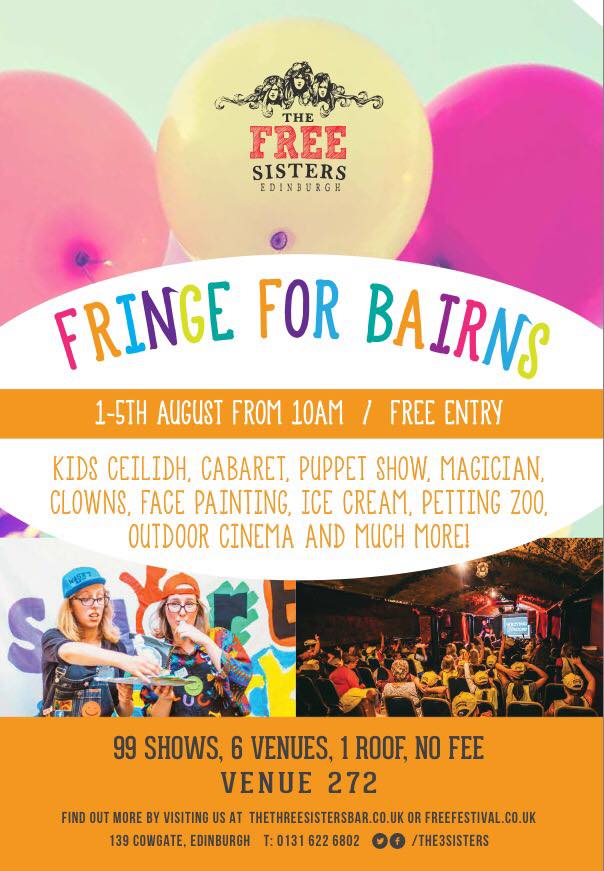 So this August, The Free Sisters are looking forward to hosting Fringe for Bairns from 1-5th August to be part of another successful year of the Free Festival! With the fringe festival starting a little later this year  (7th August), the organisers have decided to host this event earlier so it ties in with the school holidays and means children can enjoy more of the Fringe before school starts again – sounds good to me!
For the first week in August the venue (The Three Sisters Pub-139 Cowgate) is going to be hosting special children's shows, kids ceilidhs, face painting, magician acts and a petting zoo on Wednesday 5th August.
There will be plenty of events for the whole week, with a number of children's comedians and storytellers telling tales of mystical and strange creatures from faraway lands! To top it all off, they will also have an outdoor cinema playing a selection of the best children's films every day in August!
The daily programme for August 1st to 5th is:
10.00am – 1.00pm – Kids Movies on the Big screen in the Courtyard – Enjoy a movie in the outdoor cinema, around the tables or relax on the deck chairs!
10.00am, 11.45am, 1.30pm and 3.00pm – The A to Z of Wonderful Strange – Roll up! Roll up! Come and see The Stuffed Crocodile Story Wagon (a German touring wagon in the Courtyard). A fairy tale made reality! Seen around the world as it journeys from village to town. Hear Professor Pemberton's tales of far-off lands! Faeries and Pirates! Ghosts and Dragons! Truly an A to Z of Wondrous Strange!
10.45am – Defrosted – Love FROZEN or hate it, you will laugh your stripy socks off at this pair of lovable clowns and their puppet rock band. Join Nicko, the beardy Australian & Cat from CBBC's comedy sketch show FIT! for a super-silly, fun show. Featuring comedy songs, live music and real magic.
11.30am – Funtime Kids Disco – Kids have the chance to celebrate the their holidays by getting down for some serious partying! DJ Kitty Kat and Matty Grey are loud, funny and will keep the kids moving the whole time. The disco is an hour of madness, mayhem and music for kids aged 5 to 10 years. But good music… the stuff kids want to hear. No old fogy music to be even allowed in the place!
12 noon and 1pm – Ceilidh for Kids – Family workshop suitable for children aged 3-7 years with parents or carers. Everyone is involved: skip, clap and march together to traditional Scottish music. Enjoy discovering very simple (often simplified) dances that you might find at a ceilidh or Scottish country dance, celebrating the social aspects of dancing with a partner. Ceilidh Kids is all about fun for all generations.
Midday – Gorgeous George and the return of the Snot zombies – Award winning author Stuart Reid returns to the three sisters with Bums, bogies and big bottom burps – more monsters, mayhem and muck. The Snot Zombies are back and the circus is coming to town and Grandpa Jock has almost wet himself with excitement. George's suspicions are aroused when the circus elephants begin dumping piles of pink poo on the pavement.
1.30pm – Game on – Direct from Australia. Game On returns to Edinburgh for a second year. This is a show about games, all types of games. Whether it's the latest in 3D-4G, hi-def, surround-sound, Wi-Fi, Wii Fit, online, interactivity or … well, you know, games where you actually interact: Matty Grey will examine them all and try to work out why the cheat codes aren't working! Matty Grey will entertain and delight with his rapid-fire comedy and non-stop energy.
2.30pm – Huggers – The popular worldwide hit comedy and cabaret show for all the family returns to Edinburgh with another revolving line-up of the best comedians, musical acts, magicians and children's entertainers for all the family to enjoy together.
On Wednesday 5th August, there will also be a visit from staff and animals from Gorgie City farm, from 10am to 2pm, with a selection of animals for the children to interact with.
Like all Free Festival shows, the shows are free entry – and donations are asked for at the end.