It's been another AMAZING week – well actually more than a week – I'm struggling to keep up as I also had my youngest starting school this week to add into the mix !!
We've enjoyed the rather delicious hot doughnut stall in George Square gardens, and hanging out at the BBC tent – they have some great family events this weekend including :
Mark Thompson's Spectacular Science Show (Ages 5-13)   Sat 19 August 11am – 11.30am – Tickets available only from the Info Point on site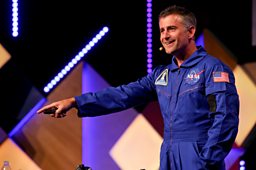 The Science Guy Is Back. TV Astronomer and Author Mark Thompson will explore the Strange and Magical Properties of Matter with Exploding Elephant's Toothpaste, Vortex Generating Dustbins, Growling Jelly Babies and even Flying Toilet Paper!  Find out more
Roald Dahl's Marvellous Medicine (Ages 7+)  Sun 20th August 2pm – 2.45pm – Tickets available only from the Info Point on site
Join Roald Dahl's doctor, Professor Tom Solomon, for a fascinating trip into the whoopsey-splunkers world of Dahl. Using Dahl's fantastical stories, he will explain how the body works, what can go wrong and how we can fix it!  Find out more
We have also seen some fantastic shows this week with a mix of circus, comedy and dance – check out the reviews for more information, but our top tips this week (and for some of them you need to be quick as they finish on the 20th) –
The Listies Make You LOL – If you haven't checked these guys out, you only have three more chances, though I suspect they will sell out fast….very, very funny and silly sketches including a car trip, lots of poo jokes and some great participation.
Dr. Zeiffal, Dr. Zeigal and The Hippo That Can Never Be Caught – We loved this show, it's engaging and quirky and again with plenty of interaction, with the audience wearing their Hippo google goggles and assisting in the search of the elusive Hippo !!
Nick Copes Family Songbook – Again only a few chances left to see Nick Cope and enjoy a melodic start to your day. His banter is highly entertaining and all kids will love his songs about pirates, dragons, poo and more !!!
Cirkopolis – For some spectacular circus, with all the favourites of Cyr wheel, diabolo, juggling, Chinese pole and stunning acrobatics, with amazing animations taking you on a journey…check this out, blending story, skills and style – you won't be disappointed.
For something completely different, check out  Eaten, on at Summerhall, featuring Lionel the Lion who dreams of becoming vegetarian, its a very funny and educational look at what happens to our food when we eat it – with of course lots of obligatory poo jokes and toilet humour !!!